January 7, 2019
---
The prospect positioning process for financial advisors
What is the real reason why ideal prospects do not bring all of their key financial documents to a meeting with you? Because you have not positioned it properly in their minds. Positioning according to Wikipedia" refers to the place that a brand occupies in the minds of the customers and how it is distinguished from the products of the competitor". Most financial advisors I ask how they position to prospects to bring all of their documents with them at the meeting, that the advisor has set up, is wrong. It is usually positioned to the advisors benefit. The advisor positions it by saying something like " bring in all of your financial documents so we can see where you are at and it will help me understand how we can help you". Guess what. It is not about you!
How do you position your offer, so they bring all of their financial documents?
It's all about them, so what are the benefits to them of bringing in all of their documents. First, you should have a checklist of what ideal prospects actually need to bring to the meeting and get a copy to them. Depending on your practice, this should be a list of items to help them get organized in all six areas of their personal financial life including:
___Tax ___ Investments
___Estate ___Insurance
___Risk management ___Debts / cash flow
This is for personal planning, and corporate planning would be a separate list. The benefit to them is helping them get organized. How many people have their financial documents organized in all six areas? Do you? Stuff is everywhere, so the first key benefit to them you must position is to help them get organized. Ask them," Would it be valuable if we helped you get completely organized in all six areas of your financial life?" It is a benefit to them, and you. The ideal prospects who bring all of their documents, what does that tell you? They are serious. Conversely, the ideal prospects who don't bring all of their information, what does that tell you? You can show ideal prospects financial summaries you do for your best clients and how you keep them organized, either securely online or in a binder with six tabs. Summarizing all of their financial data and simplifying it for them, as another benefit to them.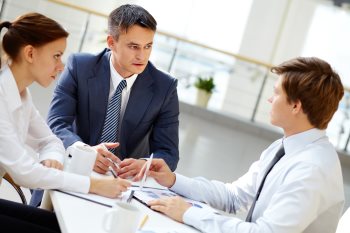 What other benefits do ideal prospects get?
If an ideal prospect brings in their documents, I can offer a fee audit. Ask them this question" Would it be helpful for you to understand the total cost of investing and advice, what you get and don't get for the cost? We can offer you a fee audit. See my previous articles on fee audits.
If you do insurance, you can also offer an insurance audit or beneficiary audit. Would it be valuable to make sure all beneficiaries are correct, on investments, insurance and aligns with your will, summarized on one page? Consider offering your beneficiary audit service. You cannot offer these services without all of their documents. Another benefit to them if they bring all of their documents.
How about their investment portfolio. Ask this question to position another benefit why you need all of the documents." Would it be valuable to stress test your portfolio, and see the probability of reaching all of your goals, with your current planning?" Then ask for a copy of their current plans, so you can stress test them. Now the ideal prospect is starting to see value and benefits to them of bringing all of their documents, because their plan if it exists in the first place, has probably never been stress tested before. This document is usually missing from the list of documents, simply because they either don't have a comprehensive plan to start with or have nothing in writing.
More and more benefit to them
In my workshops with advisors, we brainstorm lists of benefits on why ideal prospects should bring all of their documents, and advisors love it because it creates a list of benefits to people, and weeds out ideal prospects from non-ideal prospects. It saves advisors hours of time in prospecting. Now they can position their meetings better and be more productive in acquiring ideal clients this year!
Let's talk
If any of this resonates with you, let's have a brief discussion on what's holding you back from accomplishing more in 2019? No obligation, as I only have a few coaching spots available to start the year. If you want to build your ideal practice, acquire more ideal clients, deliver more value to your best clients or run your practice more effectively, then click on the link to set up a call, https://my.timetrade.com/book/JMTNJ
or email me at grant@ghicks.com for our "Practice Management checklist and coaching guide"
Webinar on fee audits and beneficiary audit services
Join us for an exclusive webinar Jan 08, 2019 at 11:00 AM MST on how to deliver fee audits and beneficiary audits to wealthy prospects, and engage them to hire you by clicking on the link https://attendee.gotowebinar.com/register/6219080054380728578
---
Enthusiastically yours,

Grant Hicks, CIM, National Director Practice Management
Advisor Practice Management
www.advisorpracticemanagement.com

Suite 1625-246 Stewart Green, SW
Calgary, Alberta T3H 3C8
Cell 403 970 8895
Email grant@ghicks.com
PS Where do you want to be in 3 years?
STATEMENT OF CONFIDENTIALITY The information contained in this email message and any attachments may be confidential and is intended for the use of the addressee(s) only. If you are not an intended recipient, please: (1) notify me immediately by replying to this message; (2) do not use, disseminate, distribute or reproduce any part of the message or any attachment; and (3) destroy all copies of this message and any attachments.