September 13, 2016
---
The Confident advisor and the 7 Critical Conversations
There are 7 critical conversations necessary to engage people in ways that predictably turn leads into prospects, prospects into clients, clients into people who take action on your advice, happily pay you for planning and advice, and introduce you to their friends, family, and colleagues.
Consider what could happen to the quality of your client service and the value of your business when you can artfully engage anyone, any time, and anywhere.
The end result is that you can gain more wallet share from existing clients and acquire additional high-value clients.
Download your complimentary copy of Bill Bachrach's new "enhanced" eBook The Confident Advisor; How to Thrive in the New World of DOL Fiduciary Standard, Digital-Advisors, and the 5 Other Critical Industry Disruptions.
This eBook contains mini demonstrations, videos, audios and additional tools to help you
• get more clients,
• generate more revenue and
• become more refer-able.
Go to http://www.billbachrach.com/e-book/ and download it right now so you can read and apply these 7 critical conversations and create the kind of business you truly want.
"The successful warrior is the average man, with laser-like focus."
– Bruce Lee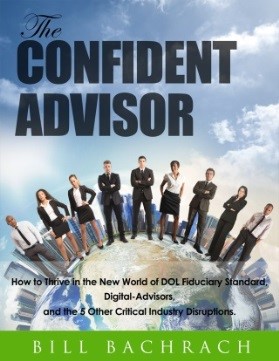 Here's to Your Greater Success,
Grant Hicks CIM President of Advisor Practice Management
Advisor Practice Management's goal is
" Helping Financial Advisors take action, to create 100 quality financial plans for their clients". My mission if you choose to accept it is " To help advisors to create 1 million quality financial plans for people". Ask your clients and prospects this question " What does a quality financial plan mean to you ? Let me know if I can help you grow your practice.
Let's work on your business. Start by emailing us. Why not?
---
Enthusiastically yours,

Grant Hicks, CIM, National Director Practice Management
Advisor Practice Management
www.advisorpracticemanagement.com

909-17th Ave SW, 4th Floor
Calgary, Alberta T2T 0A4
Tel 587 390 3148
Cell 403 970 8895
Email grant@ghicks.com
PS Where do you want to be in 3 years?
STATEMENT OF CONFIDENTIALITY The information contained in this email message and any attachments may be confidential and and is intended for the use of the addressee(s) only. If you are not an intended recipient, please: (1) notify me immediately by replying to this message; (2) do not use, disseminate, distribute or reproduce any part of the message or any attachment; and (3) destroy all copies of this message and any attachments.